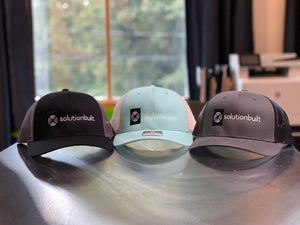 Why Are Custom Embroidered Hats Important For Your Business?
Custom hats have become a marketing norm for businesses and brands of all industries. It is not only a fashion statement but also a great way to simply market your message or business. The use of hats as promotional material offers each business a unique and stylish method to push their name and products to the public. The best way to accomplish this is through the use of custom embroidery, as it gives any brand or business a more sophisticated look among its consumers. Here Deadline Apparel, details the benefits to custom embroidered hats for your business or brand. 
Benefits Of Custom Embroidered Hats 
Advertisement & Promotion - Custom embroidered hats are very useful for advertising and promoting your business. Having the logo of your company embroidered on the front of a hat is highly recommended to make advertisement more efficient. Potential customers will see the logo and subconsciously register that brand into their memory. This is one of the main reasons why companies should use custom embroidery on hats.
Professionalism - If the embroidered product is done professionally, it will make your business look more respectful. Having an appealing yet quality embroidered design can give your business a classy appearance. Business owners should consider a professional company like Deadline Apparel for embroidery. Having quality designs shows that your organization offers quality service or products that is definitely a boost to the efficiency of the organization.
Stand Out - When it comes to advertising your company it is important to stand out among the masses. Using custom embroidered hats gives your business a leg up on competition. With that being said, it is just as important that the logo or message stand out as well. It is therefore very important to come up with a powerful and creative approach for your hats. Your organization is displayed by this general appearance.
Meaningful Gifts - Hats are perfect gifts for potential customers, existing customers, associates and much more. Hats are extremely thoughtful gestures that mainly interact with most recipients. It's certainly a way to give your company's brand the exposure it needs.
Affordability - Another huge benefit to using hats as promotional products is that they are affordable. Some promotional products can become quite expensive. With hats, you'll get an affordable product with huge value. Now add custom embroidery, you get an affordable and professional looking product to promote your business. 
Flexibility - The use of custom embroidery does not restrict any given type of material. You may use a wide range of materials for your custom hats as long as you ensure they are great and comfortable. Embroidery provides for flexibility and in this case, business owners should go for quality rather than quantity to ensure the customized hats are likable by all.

Looking For Custom Embroidered Hats? 
Deadline Apparel is a local veteran-owned custom embroidery and custom t-shirt screen printing shop in Canton, GA. We provide exceptional customer service and quality, along with the lowest minimums around, for screen printing, embroidery, custom t-shirts, and heat transfers. Call us today at (404) 867-2727 to learn more about our custom embroidery options.
---