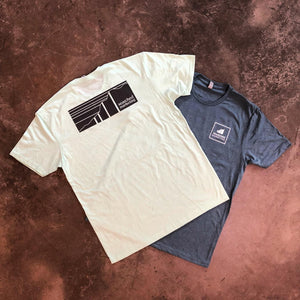 Helpful Tips For Quality Screen Printing
What is Screen Printing?
Screen Printing is a method of printing graphics on a t-shirt using thick inks that lay on top of the shirt rather than soaking into the shirt. Screen Printing is commonly used by the majority of companies today. With thicker inks, screen printing is better for graphics with only one or two ink colors. The thick ink will have a soft feeling and can make for amazing prints on t-shirts or other products. If you're in no rush and have minimal colors for a t-shirt, screen printing is the way to go. It looks professional and is often more affordable for larger quantities.
Screen Printing Process
A thin mesh is stretched tightly over a frame, also known as the 'screen'. A negative of the design is printed onto the screen to be placed against the shirt. Once set in place, ink is rolled over the screen, only the areas where the design has been printed allow ink to slip through. The ink then sets on the t-shirt and is put aside to dry. With that being said, there's a lot of separate chemicals, inks, and techniques that go into making shirts and other products. While it may not
be as quick as direct-to-garment printing, it can result in a thick and bold design.

Helpful Tips
Communication With Your Client
One strategy you can use to prevent problems before they start is maintaining clear communication with your customers through all steps of the order process. When you take an order, get as much detail as you can from your customer regarding all aspects of the job, from the artwork to the type of garment to the desired turnaround time. Provide a detailed order form so you can keep track of exactly what the customer wants. If you have any limitations your customers need to know about, make sure to explicitly state them. You also need to clearly explain your pricing to your customers. No one likes hidden fees, so try to give your clients a detailed breakdown of the cost of their orders.
A Standardized Process Can Minimize Mistakes
Standardization is key to controlling the quality of your screen printing. If your procedures are standardized, when problems occur it's easier to find the problem, because you can go back through the entire process. Identify what processes are repeatable and variable for every job. Documentation is also key. From screen preparation to printing to packaging to screen reclamation. You'll get more consistent results if you give yourself a guide to setting up and printing jobs successfully, rather than winging it for each order.
Test Your Screen Prints
If you notice a problem, do some test prints isolating one variable at a time. There are many reasons why a print might not be printed correctly. If you test each variable individually, it'll take less time to find the problem and devise a solution. Document common problems and how you've solved them so you have a handy reference you can use in the future.
Keep Your Shop & Tools Clean
Another good way to prevent screen printing issues is to keep your work area as clean as possible. Don't let dust, dirt, lint, ink or pallet adhesive build up over time. This can affect your print quality and can even damage your press itself. Clean your press and the surface of your exposure unit often. Keeping your store neat and organized is a big step towards ensuring the best print quality possible.
Call Deadline Apparel Today
Deadline Apparel is a local veteran-owned custom embroidery and custom t-shirt screen printing shop in Canton, GA. We provide exceptional customer service and quality, along with the lowest minimums around, for screen printing, embroidery, custom t-shirts, and heat transfers. Have an order? Give us a call today! (404) 867-2727
---